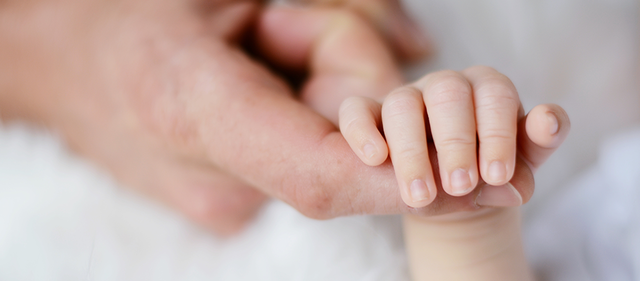 Text suggestions for congratulations on a newborn
4

minute read
The birth of a child is one of the most beautiful events in life. The excitement is huge and of course you want to congratulate the parents and welcome the newborn. 
In this blog article we'll show you a few examples of ideas for texts you can use when writing a heartfelt note of congratulations to the new family. 
For the child
Welcoming a newborn is an extremely special moment. You want to express your joy at their arrival and also to wish them all sorts of wonderful things for their path through life. A nice way of making it that much more personal, something like our personalised Greeting Cards from Librio for example. 
Here's an example of what you can write in your card, or letter:
Welcome, little Emilia!
I'm so happy to finally meet you, and to have the honour of guiding you through your journey in life. Wishing you many happy and exciting adventures in your years to come. 
Lots of love, 
Your Godmother, Anna.
 Welcome, dear Alfie! 
We have been waiting for this moment for so long. We wish you and your parents a wonderful start as a new family and we look forward to enjoying with you, all the excitement your life holds! 
All our love, 
Grandpa and Grandma
Dear Elin,
Welcome to the world! It's so wonderful that you finally made it, and it makes me very proud to be your godfather. I wish you all the best and look forward to our time together.
Here's to a life full of joy, happiness and beautiful moments!
Sincerely,
Alex
A particularly nice way of remembering the moment of their birth is with a personalised Art Print. With an art print by Librio you have a magical gift to mark the moment they entered the world, and which can be hung in the nursery as a decoration.
If you don't want to come up with a quotation of your own, we have a range of them to choose from. Here's a summarised selection of what he have on offer:
"Every action in our lives touches on some chord that will vibrate in eternity." – Edwin Hubbel Chapin
"Wheresoever you go, go with all your heart." – Confucious
"Be kind whenever possible. It is always possible." – Dalai Lama
"Be Silly, Be Honest, Be Kind." – Ralph Waldo Emerson
For the Parents
Of course there are many ways in which to congratulate new parents. A card, for example, our personalised greeting card would definitely be more cherished than a quick WhatsApp message. Our cards can be created online and can then be sent directly to the parents. If you're interested in the brains behind our Librio greeting cards, we recommend this blog article here.
If you're needing inspiration, here are some suggestions on texts to congratulate the parents on their new baby – no matter whether they are congratulations on the birth of a boy or a daughter.
Dear Lisa and Pedro,
Huge congratulations on the birth of xx. We wish you all a wonderful start in this new chapter of your lives together. 
Dear Lena & Kevin, 
Many congratulations on the arrival of your little xx. Wishing all three of you all the best and all love in the world. I'm so excited to meet your little one soon! 
Love,
Basti
Dear Astrid and Marcus,
YAY! Finally your little one's here! So, so many congratulations on his/her birth. Wishing you all a wonderful start in your new life as a family. 
All the best,
Sophie
Gifts for the birth
As well as well-wishes, gifts are also a lovely gesture. We're happy to recommend our personalised Children's book, 'Welcome to the World'. This moving story isn't just about welcoming the little one to the world. It also reminds parents of the beauty and peculiarities our wonderful planet has to offer. You can also personalise the dedication at the start of the book, to make it that little bit more special.
Want to get started right away?