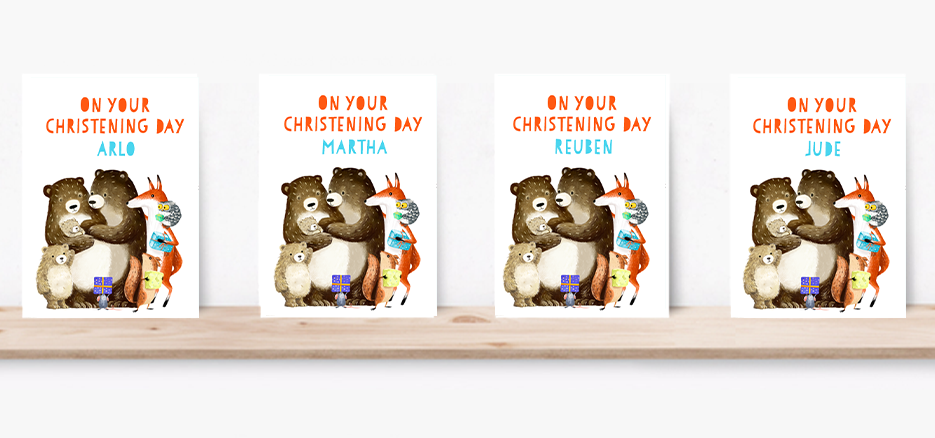 Christening Gifts
3

Minute Read
What do you gift at a christening?
Whether you're a godparent, a cousin or grandparent of the child in question – anyone invited to a christening wants to bring something special for the little one. Something for them to cherish for years to come, preferably with a personal touch. A great solution for this are personalized christening gifts. They'll not only focus solely on the child themselves, but also be a lovely reminder of their christening day as they grow older.   
Popular christening gifts
Personalized picture books are perfect christening gifts that a child can cherish for many years. In Librio's online shop you'll find a vast array of beautiful personalized picture books perfect for your little one's special day. With just a few clicks you can create a wonderful story with a lead character that looks just like your little one. As well as this there's also the option of adding your very own, personal dedication at the front of the book. 
All of Librio's books are locally and sustainably produced. Not only that. For every purchase made Librio donates to two charities focused on improving the world and childrens' futures. Through 'Trees for the Future' a tree is planted for every book purchased and through 'Room to Read' for every book bought a book we donate 1% of our revenue (not profits) to causes improving the future of millions of children and the planet they will grow up on. You can read more about our commitment to children and the environment here.
Unique, personalized christening gifts
Our recommendations for unique, personalized christening gifts
Welcome to the World
'Welcome to the World' is an uplifting book introducing a child to our wonderful planet while inspiring parents to find wonder in the world around them. It is also a book created with new parents in mind. Grown-ups will enjoy reading the simple text aloud to their little ones and find an inspiring message to cherish themselves. A perfect christening gift and something that both parents and children can cherish alike.
The Tree, The Key & Me

'The Tree, the Key & Me' is a magical adventure for both boys and girls. With over 8000 possible configuration combinations you can create a character just like your little one.
The book is available in German, German-Bayerish, German-Kolsch, multiple Swiss dialects, English, French, Italian, Spanish, Romansh and Welsh.
Extra-Tip:
You might possibly also be wanting a little something to make the siblings of the child being christened feel a bit special. For any purchase of two or more books you get 15% off. Simply put the code: YAY15 in at checkout and the discount will be applied. 
A personalized poster as a christening gift
Fancy something other than a book? Not to worry. At Librio we also create beautiful personalized posters which make a great christening gift. 
Choose from 5 magical motives, add the name of the child and choose a special quotation to follow the little one through life. You can also choose the size of the poster and pick your choice of background color.
The Art prints are printed on the highest quality 100% recycled paper and can be delivered to your home within 4-7 working days. A beautiful christening gift and a special something to decorate the little one's room with after the special day.
A christening card
As if these suggestions weren't enough, we even have a personalized christening card for you to create for the little one in question. The perfect rounding off for a thoughtful christening gift. The artwork is the creation of our illustrator, Nick Elliott. You can find out more about his incredible skills and how our cards came about here.