First birthday gifts
3

Minute Read
How quickly the first year flies by! In some ways, still a newborn, but during their first year, a baby gradually develops into a toddler. First birthdays are always a special moment and of course want to be celebrated properly. We've put together a selection of the most beautiful first birthday gifts for your little ones. Check out our collection and find the right gift for your child.
Our first tip: A unique gift
A cuddly toy for their first birthday? Probably better not, because most likely, the infant was already gifted so many at birth and probably already owns a whole collection of teddy bears and other stuffed animals. 
If you prefer to give a unique gift, a personalized picture books from Librio could be the right choice. In Librio's collection, there are many beautiful stories to discover, including the book "The tree, The key & Me", which is ideal as a first birthday gift.
First birthday gift: 'The Tree, The Key & Me'
The forest animals are worried because the colors of the forest disappear and the main character embarks on a fairy-tale journey through the magic forest. Can they save the forest before the colors disappear?
Like every Librio book, "The Tree, The key & Me" can be personalized. With the online configurator you can determine the name and appearance of the main character. The book is available in 19 languages and dialects and is rated 5/5 stars.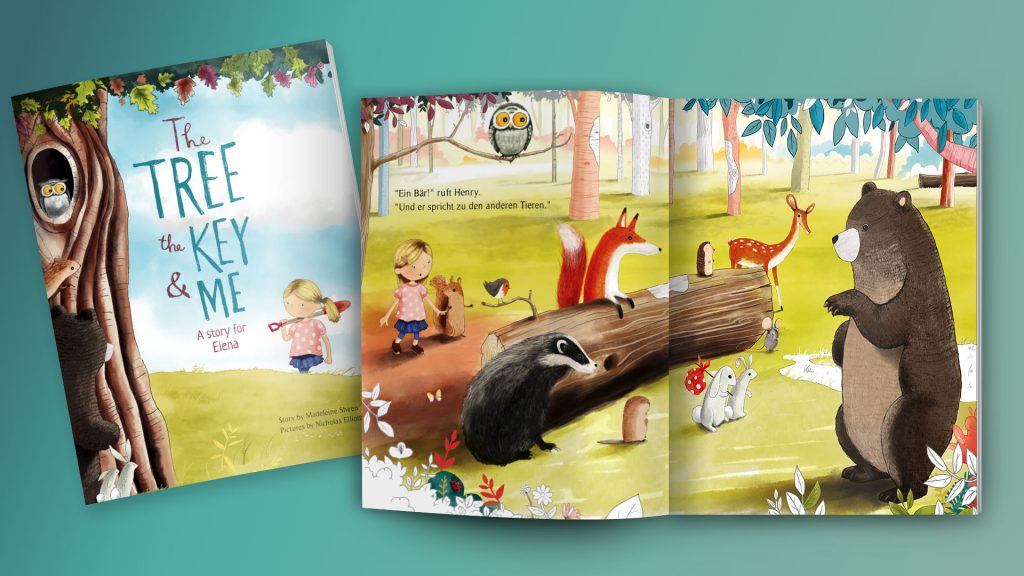 First birthday gifts: An Art-print for the nursery
Another nice idea for first birthday gifts are posters – a highlight for any child's room! How about these cute forest animal art prints? With just a few clicks you can choose different motifs and background colors. In addition, you can add the name of the child and have a personal and stylish gift for their first birthday. If you want, you can also add the date of birth and a quote of your choice.
The posters are produced as sustainably as possible and are available in A4 and A3 format.
A personalized card for their first birthday
A greeting card for a birthday gift is always well received. Online at Librio you'll find several personalized cards with birthday motifs. Each card is unique and is made especially for the birthday child.
By the way: If you're looking for text suggestions for your birthday card you can check out some of the ones we've collected here.
Gifts for Super-Moms and Super-Dads
The first year of a child's life is a wonderful, but also exhausting time for the parents. A year full of change, moments of happiness and also challenges lies behind them. The first birthday is a nice opportunity to appreciate this. In addition to nice words in a superhero card, you can also surprise the parents with a book to celebrate this magical time.
The book "Lost for words" celebrates the unique bond between parent and child and is currently only available for fathers. Written as a dialogue between dad and child, it heartwarmingly describes how they grow and learn together: Enjoying the beautiful times, mastering the challenging times and having fun and larking about together in funny times. The book is a nice surprise for the parents – be it for the first birthday of their little one, or just as a thoughtful gesture.