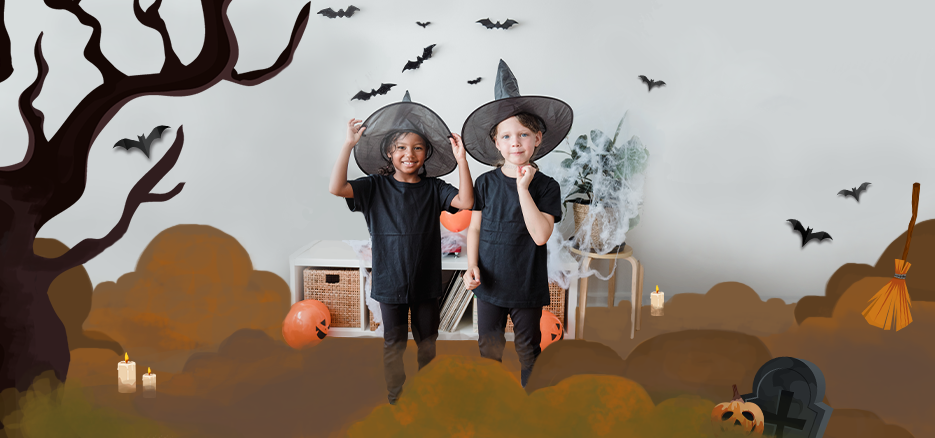 Fun ideas for Halloween
5

Minute Read
Carving pumpkins, fancy dress and trick-or-treating are a few of the old traditions that many of us know and love. In this blog post though, we'll share some fun alternative ideas of what to do with your kids on Halloween.
We hope you enjoy the selection and that maybe an idea or two might jump out at you <Boo!>.
Tip Nr. 1: Brew a magic potion
Whether it's a blood-red punch made from grape juice or a green 'poison' mocktail – it's the small details that turn a normal drink into a real Halloween drink. From sweet and sour gummy snakes to slippery eyes made of lychees and blueberries, there are plenty of various, fun ideas to make the drink creepy and delicious. 
However, it doesn't always have to be a tasty drink… a completely un-drinkable drink is also an option. For example, you can take a cauldron with you on your next walk in the forest so that the kids can brew their own magic potion. There are more than enough ingredients outside: water from the stream, pine cones, dried leaves, small stones and much more. Stir the potion with a small branch and don't forget the magic spell! It's particularly exciting when it's icy cold outside and the brew freezes overnight.
Tip Nr. 2: Learn a Halloween dance
Fancy dress and ghoulish make-up are the classic pastimes when it comes to Halloween activities. But maybe the little witches, wizards and monsters would like to come up with a Halloween dance together and prepare a short performance for Mom & Dad. Turn on some fun Halloween music on and away they go!
Tip Nr. 3: Stories by flashlight
Reading aloud is always a good pastime. If you make yourself a special cave out of sheets and cardboard and then read stories aloud by the beam of a flashlight it lends the whole experience a slightly more fun, spookier touch. 
At this point, we'd like to recommend our book "The Tree, The Key & Me". The story is far from spooky, but it does feature a grumpy witch and a magical forest filled with magical animals. Aimed at children up to the age of seven, this personalized book is produced – as with all Librio products – as sustainably as possible.
Will the main character help the animals bring the color back to the magic forest? See below to find out more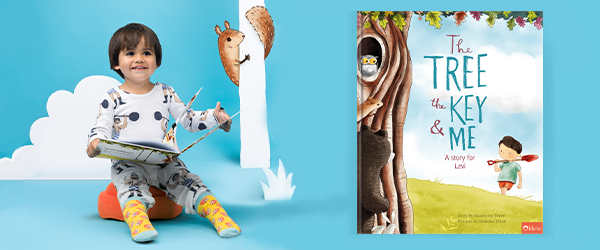 Tip Nr. 4: Draw a Halloween picture
If your kids are in the mood for some painting/drawing, then this template might be the right one for you. Here your little ones  can draw and color in the witch from our above-mentioned picture book, "The Tree, The Key & Me".
Of course the kids don't have to use this template. If they prefer, they can create their very own Halloween drawing. For those who are more interested in making something as opposed to coloring-in, go straight to our next tip.
Tip Nr. 5: Make your own witch and her cat
How about a little Halloween puppet show with a witch and her cat? In our video tutorial we show you how your little ones can bring the witch and her cat to life. Using an empty toilet paper roll and paper, you can make these two cute figures – suitable both as a decoration and as something to play with.
Tip Nr. 6: Make a homemade owl costume

Still looking for a fun Halloween costume? We've got the perfect solution: A homemade owl costume! To make the costume you'll need the following:

– Tissue paper (grey, yellow, black and white)
– Elastic
– Fabric glue or a hot glue gun
– Feathers
– Scissors
– A sweater or long-sleeved shirt (ideally grey or brown in color)
– Fabric or towels (long enough to cover the length of your little ones' arms)
– Old fabric scraps or towels (eg. in grey, beige, black or white)
– A stapler

This costume is a fun and useful way of using up old pieces of fabric you may not have known what to do with! See the video below for instructions of how to make the finished article.
Tip Nr. 7: Make some leaf pictures
Halloween falls – ironically, in the Fall. A fun, creative activity for both outdoors and indoors is making leaf pictures, using leaves collected from outdoors, and then sticking them onto card of paper. 
If you feel this is missing the Halloween-feeling though: using gouache paint and a black pen the leaves can be transformed into ghosts. If you glue these onto black card or paper, this makes them look especially effective.
Tip Nr. 8: Make an 'owl' snack
Admittedly, our Halloween 'owl' snack doesn't look particularly scary, but what it lacks in ghoulishness, it makes up for in freshness and vitamins! You don't have to stick exactly to the ingredients we used either, this snack can be made using any appropriate, seasonal ingredients of your choice.
Tip Nr. 9: Prep-ahead by making some Christmas gifts
Once Halloween is near, we know that Christmas also isn't too far away. So, if you're bored with ghouls and ghosties, why not use the time and get ahead with making some small Christmas gifts with your little ones instead? In this blog post we'll show you how to make a cute bear bookmark from paper. In virtually no time at all, you'll have a perfect, handmade gift for any family members who enjoy a good reading session. 
Did you enjoy these tips? Then share some Halloween greetings and forward this article on to anyone you think might be interested. You can also subscribe to our fun monthly newsletter and be the first to hear about book recommendations, competitions and exciting insights into the world of Librio. As a thank you for your subscription, you'll also receive a 10% discount off your first order.