Gifts for 3-year-old girls
3

Minute Read
Looking for a gift for a 3-year-old girl? You are? Well then, we've got just the thing for you: Personalized picture books! 
A personalized picture book: A beautiful gift for a 3-year-old girl
In the Librio online store you'll find several children's books that you can personalize. Whatever the appearance of your main character – countless avatars are available in the online configurator. In addition to the appearance of the main character, you can also determine the name and add a personal dedication at the start of the book. All books are locally printed on high-quality, recycled paper and produced as sustainably as possible.
There are a variety of exciting, fun and emotive stories available in different languages and dialects to choose from. Which book should it be though? Here are our tips for an unforgettable gift for 3-year-old girls – of course, the recommendations can also be applied to boys
Recommendation 1: 'My Fantabulous Orchestra'
'My Fantabulous Orchestra' takes your child into the wonderful world of music. 
After seeing Madame Fidelli and her orchestra live in concert, it's clear to the lead that she wants to start his own orchestra. It should be fantastic and fabulous, a fantabulous orchestra! Will this work though?
This book is a heartwarming story with beautiful illustrations and is a great gift for 3-year-old girls. 
Recommendation 2: My Search-and-Find World book
The perfect picture book for little detectives! 
In our Search-and-Find World book, the main character goes on a worldwide adventure. It takes them through ten wonderful hidden object images of the world, including the canals of Venice, the temples of Bagan and the Great Barrier Reef in Australia. In each country, the child must find themselves, as well as various indigenous animals and objects.
Recommendation 3: The Tree, The Key & Me
'The Tree, The Key & Me' is a personalized fairy tale set in a magic forest. The main character embarks on an adventurous journey to the forest animals, the animals are worried because their forest is losing its colors. Can the lead character save the forest before the colors disappear completely?
This picture book is available in 19 languages and, like all Librio books, is shipped in a very special cardboard bear packaging.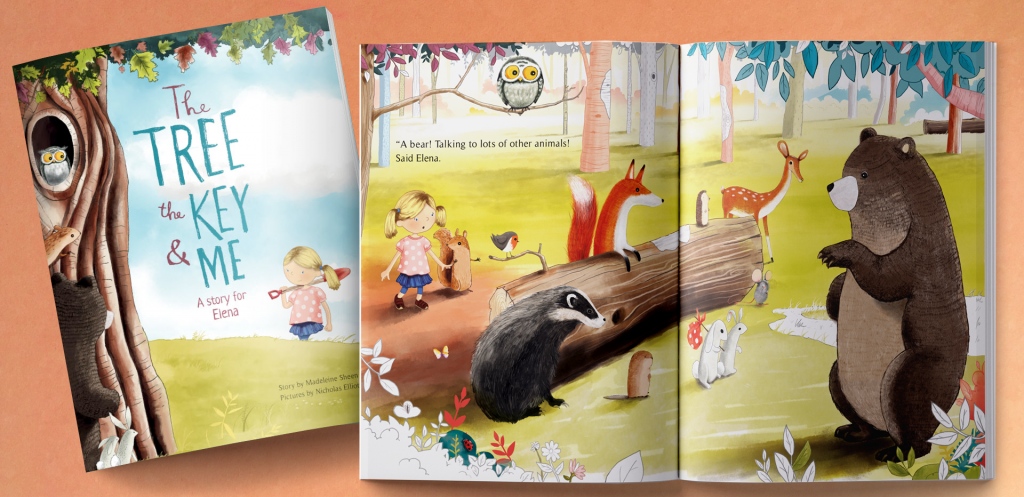 Gifts for 3-year-old girls with a little bit extra
Of course, these children's books aren't just suitable as gifts for 3-year-old girls, but for all kids who like picture books. 

If you want to add an extra little something to your gift, take a look at Librio's personalized greeting cards. From a cute bear to a birthday cake to a beautiful Christmas motif, you will find selected greeting cards for a variety of occasions in the Librio online store.
Just in case it's a birthday card you're after and are in need of some inspiration for what to write inside: We've collected some of the nicest birthday greetings and texts and put them all into a blog article here.