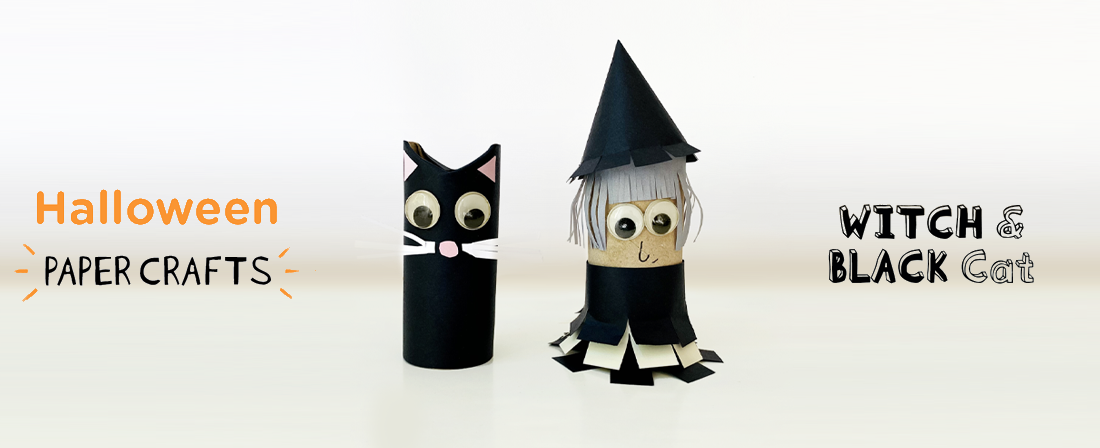 Halloween crafting video
1

Minute Read
If Halloween's impending arrival has you craving some creepy crafting, well then we've got the solution for you!  
In her latest DIY-Video, Amelia shows you how to make your very own witch and her cat in practically no time at all. 
Halloween crafting: What you'll need
You won't need much for these two characters:
For the cat, you'll need the following:
Scissors
Gluestick
Empty toilet paper roll
Black, pink and white paper
(optional) wiggly eyes
For the witch, you'll need:
Scissors
Gluestick
Black pen
Empty toilet paper roll
Black, white and grey paper
(optional) wiggly eyes
You can of course use other colored paper if you prefer, and you can draw on your own eyes if you don't want wiggly ones – there are no rules in this kind of magic!
In the video, Amelia will show you exactly how to make these two cute little characters. 
Instructions: Amelia's Video
Our inspiration for these Halloween decorations
Are you familiar with our picture book, 'The Tree, The Key & Me'? In this woodland fairytale, the main character embarks on an eventful journey, meeting forest animals who help him on his adventure. He also meets a witch and her cat, who – believe it or not – were the inspiration for this How To video.
In our book, you choose how you want your main character to look. It's the perfect gift for kids aged 1-7. The book's available in almost twenty languages, including Spanish, French or Bavarian.
As far as we're concerned, the more witches and cats, the better! Share this blog article with your friends and challenge them to some Halloween decoration crafting. For more inspiration on small crafting projects check out this link.