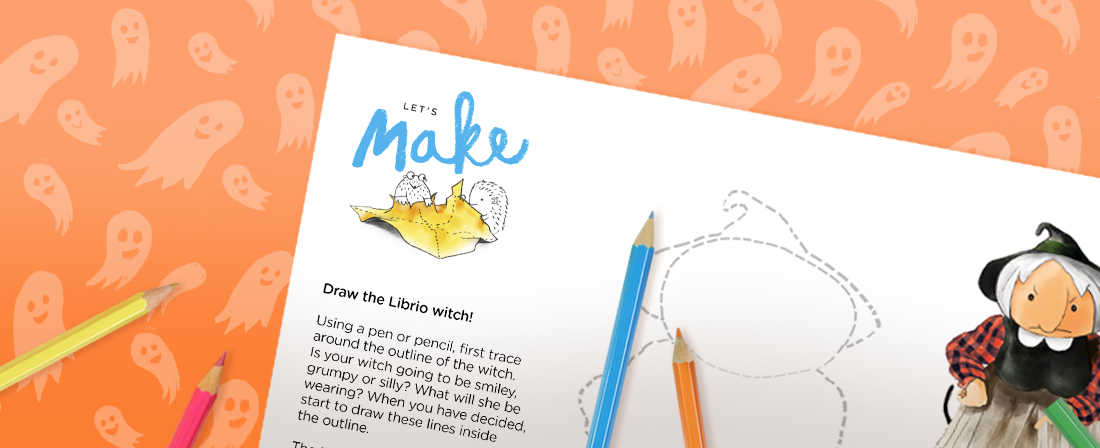 Halloween-drawing activity: Draw the Librio Witch
2

Minute Read
The perfect drawing activity for Halloween
In this blog article there's a little Halloween drawing activity waiting for you and your little ones. Our Librio witch template is perfect for Halloween and matches our witch in "The Tree, The Key & Me".
In our popular forest fairytale, "The Tree, The Key & Me", the main character goes on an exciting adventure. The forest animals are worried because the forest is losing its colors… this is due to the forest witch having misplaced her glasses… we've all been there! (The losing glasses part we mean, not the being a witch!) The main character gets to help the animals – and the witch – bring color back to the forest.
This picture book has received multiple 5 star ratings and is available in 18 languages and dialects. As with all Librio books there is the option to add a personalized dedication at the start of the book. If you're not feeling particularly inspired though, there's also a standard dedication which can be printed in the book instead of your own words:

"Dear xx, 
I hope you enjoy this book. It was made just for you. 
Our adventures are magical, fun, and full of surprises. I am looking forward to creating many more with you. 
You bring color to my life and to all those around you."
Halloween Drawing activity
Download and print the Librio template. Now you can design your own witch and her pet exactly as you want to. We hope you have fun! If you feel like sharing any of your images with us, feel free to tag us in Instagram.
More creativity ideas
If your little ones are still after more creative ideas after drawing their witch and her pet, how about drawing the background for them as well. Are they balancing on the witch's broom? Are they in her garden, standing next to her house? Or are they going for a walk in the enchanted forest? Once the little ones have drawn a background, they can cut the witch and her pet out of their template and stick them onto the background. 

You'll find more creative activity ideas here on our blog for example, how about these instructions for making your own pirate treasure chest? 
Know other families looking for inspiration for creative activities? Feel free to share this blog article with them and get creative together.