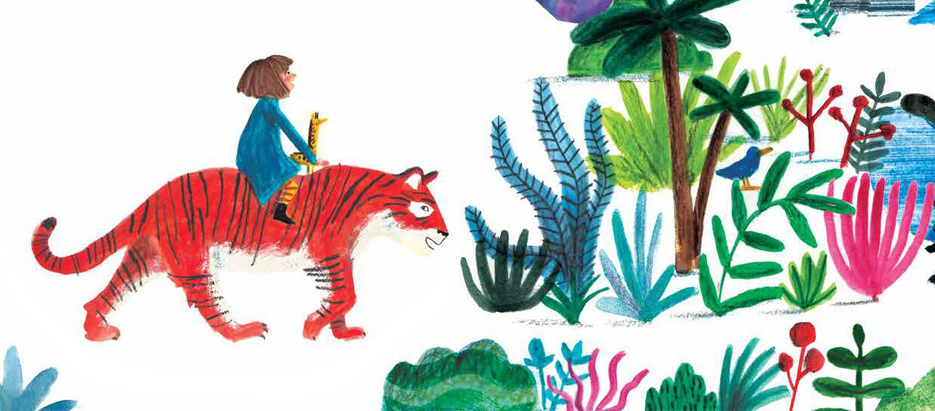 Librio Library #29 – There's a Tiger in the Garden – Lizzy Stewart
2

Minute Read
Why we chose 'There's a Tiger in the Garden'
In our second most recent book recommendation there was a lion playing the lead role. And this time, in 'There's a Tiger in the Garden', there's another one! I think it's safe to say, we like cats… especially big ones!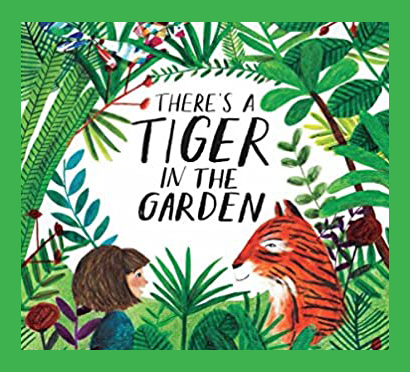 If what Norah's Grandmother says is true, then apparently not only are there multitudes of giant dragonflies, plants that could gobble you up whole, and a bad-tempered polar bear who likes fishing (!) in her front garden… there is also a tiger. Norah's not entirely sure she believes her Grandmother. Despite her doubts though, because she's bored she decides to venture out and see for herself exactly what is out there.
Favourite Image
Norah's bored. Really bored. To try and keep her entertained, her Grandmother suggests her investigating her jungle of a garden and discovering all the magical creatures out there. Just what exactly is really lurking outside is as yet unclear… Or is it?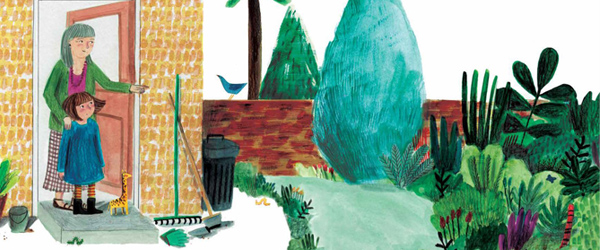 Kids will like
'There's a Tiger in the Garden' is a gorgeous story that kids absolutely love. It's exciting for them to accompany Norah on her journey of discovery in this enchanted garden. The pictures are colourful, highly detailed and magical to look at. The fact that the little ones are occasionally able to be one step ahead of Norah as she goes on her adventure is particularly appealing to them.
Parents will like
This book from Lizzy Stewart carries a lovely message about the power of our imagination and how important it is to encourage it in our children. It reminds us that boredom isn't necessarily a bad thing as it can actually lead to something wonderful. The story is beautifully and colourfully illustrated and it's just as enjoyable for adults to watch Norah on her adventure through this magical garden as it is for the little ones.
If you like 'There's a Tiger in the Garden'
Lizzy Stewart studied at Edinburgh College of Art studiert and has published multiple books. 'The Way to Treasure Island' tells the story of Mathilda and her Dad. Matilda couldn't be more different than her Dad but they end up experiencing an unforgettable adventure together. The book 'Juniper Jupiter' is a Superhero story which focuses on friendship and tolerance.
More recommendations from our collection
At Librio you'll find book recommendations for children. Have a look on our Website or on our blog for inspiration. How about a personalised 'Search-and-Find' book, where your little one can search for themselves for example? 
  Take me to the Search-and-Find Book: