Librio Library #35 – The Honeybee – Kirsten Hall and Isabelle Arsenault
2

Minute Read
Why we chose 'The Honeybee'
Last May we recommended Piotr Socha's book, 'The book of Bees'. This isn't the only story about bees that we have in our ever-growing Librio Library though! Allow us to introduce you to 'The Honeybee' by Kirsten Hall and Isabelle Arsenault.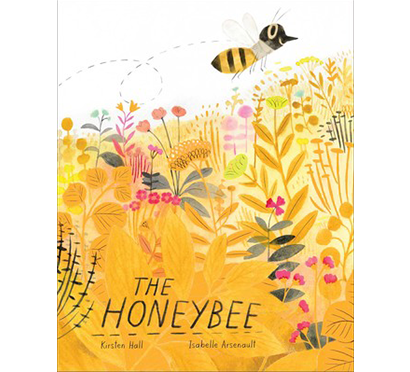 Spring has sprung, and our little honeybee is enjoying the fruits of its labors as it buzzes from flower to flower, zooming its way through the beautiful springtime blooms. Before long though, it's time to return to the hive and get to work along with all its fellow bees. Winter makes its appearance and the hive lies silently, until Spring reappears and it all begins again.

The Honeybee is a lovely little picture book and is ideal for children over 4 years old.
Favorite Image
If we're honest, we really love the beautiful images of all the springtime flowers, but they're already center stage on the front cover, so – to avoid boring you by showing you the same thing twice – we chose the image of the inside of the beehive instead! Voilà: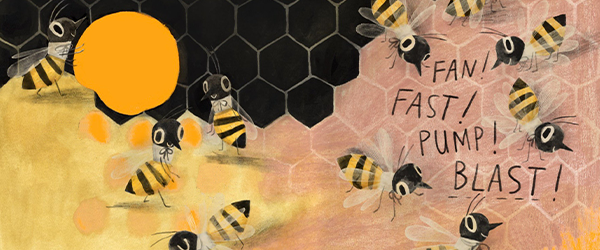 Kids will like
This rhyming story will hold a child's attention from the very beginning. Combined with the beautiful illustrations, 'The honeybee' has great potential to become a little one's favorite book.
Parents will like
The picturebook very organically teaches kids facts about bees and how they live. What parent doesn't love seeing their kids absorbed in a lovely story where they're also learning new facts at the same time as being entertained?!
If you like The Honeybee
If you, like us, are a fan of Isabelle Arsenault's illustrations then check out her book, 'Albert's quiet quest', 'Once upon a Northern Night' or 'Cloth Lullaby'. The Canadian artist has won multiple awards for her work. She also has an online store where, just like with Librio, you can buy beautiful art prints as well. 
Further recommendations from our collection
Sign up to receive our monthly newsletter to hear even more about our tips for books for children. You'll find a whole range of books, from picture books without text, such as 'Footpath Flowers' to children's book classics like 'The Snowman'. 
Sign up to our Newsletter