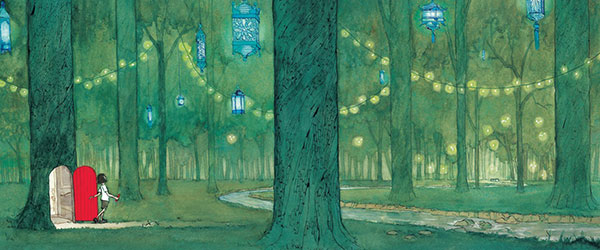 Librio Library #44 – Journey – Aaron Becker
2

Minute Read
Why we chose "Journey"
Anybody who already knows our Librio Library probably knows that we have a love of wordless picture books. We've got a few in there, including a book about a hike in the mountains, a story about a school trip to the moon (!) and even a picture book about mindfulness and generosity. In theme with this, today's blog article is about another wordless picture book.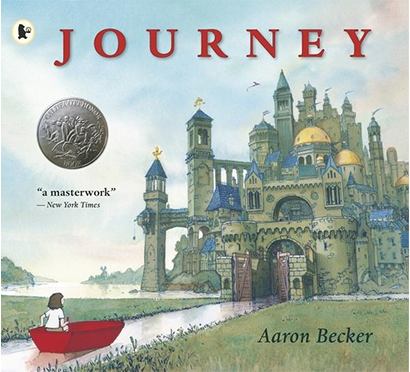 In the story "Journey", the main character escapes her rather 'dull' life with a simple piece of chalk. With this, she draws a door on the wall of her bedroom and escapes into a magical, imaginative world full of adventures, surprises and wonderful encounters. In other words, an exciting journey takes place.
Favorite Image
Aaron Becker for the most part chose to use rather bland dull or green colors. The colorful scene in which the little girl travels on the magic carpet therefore immediately caught our attention.
Kids will like
The picture book has a lot that children will like: The magic behind the discovery and ensuing exploration of a mysterious place, a ride in a hot air balloon, a dangerous rescue mission and much more.
Adults will like
The main character breaks out her humdrum life and creates her own world full of color, adventure and excitement. Let's face it, we're pretty sure a lot of us have often fantasized about something like this! 
If you like "Journey"
In addition to this book, there are also "Quest" and "Return" to discover by Aaron Becker. The three stories were published last year as an anthology. 
Aaron Becker used to illustrate for various children's films and his work can be seen in the film "The Polar Express".
More recommendations from our collection
Have you already discovered our baby book? 
"Welcome to the World" is all about welcoming a new child into the incredible world we live in. At the same time, it also inspires parents to rediscover all the little wonders around them. The book's available in numerous languages including – Albanian, Danish, Turkish and Luxembourgish.