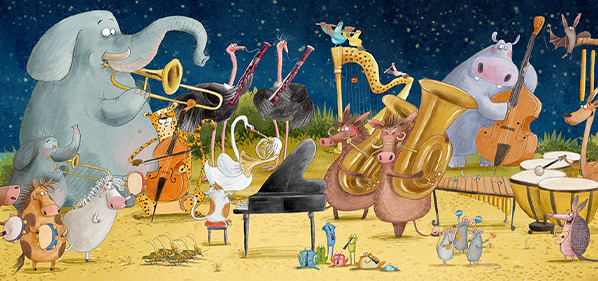 Librio Library #48 – "Wild Symphony" – Dan Brown and Susan Batori
2

Minute Read
Why we chose "Wild Symphony"
A few months ago, we introduced you to a musical picture book from our Librio Library and this month, once again we're diving deep into the world of music. 
Please welcome to the stage, "Wild Symphony" by Dan Brown and Susan Batori.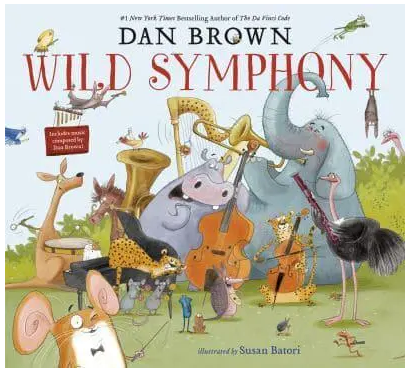 The story is led by Maestro Mouse who guides the reader through the book, introducing them to a vast variety of creatures along the way. The book can be read just as a normal book, or the reader can choose to listen to original musical compositions as they read using an interactive smartphone app which allows them to  instantly play the appropriate song for each page and each respective animal. But that's not all, there are  jumbled letters spelling out clues, and even a coded message to solve!
Favorite image
By using the app, the corresponding song sounds as soon as a phone is held over the picture book's page. The songs, composed by Dan Brown were recorded by the Zagreb Festival Orchestra.
You can listen to the song connected to our favorite image  in the following video.
Kids will like
As well as the amusing animal illustrations, little ones will definitely enjoy the interactiveness of hearing all the different songs associated with each image.
Adults will like
The picture book "Wild Symphony" has a lot to offer: pictures, puzzles, music, short poems and words of wisdom. It's quite a lot to take in, perhaps even a little too much, but that's for each individual reader to decide.
If you like "Wild Symphony"
"Wild Symphony" is the first children's book written by the famous – Thriller-author – Dan Brown. 
The illustrations are from Susan Batori. You can check out more work from the Hungarian illustrator here on her website.
More recommendations from our collection
Do you know our picture book, "My Fantabulous Orchestra"? This book is also all about the magic of music.
One day, after a trip to see the incredible Madame Fidelli and her Fabulous Orchestra, a little one of your choice hatches a plan to create their very own Orchestra. Except this one won't just be fabulous, it'll be FANTABULOUS.
Follow your little one on a heartwarming journey as they learn that the most important thing is to be true to yourself and to listen to your heart.
Sign up to our fun monthly newsletter and be the first to hear about book recommendations, competitions and exciting insights into the world of Librio. As a thank you for your subscription, you'll also receive a 10% discount off your first order.