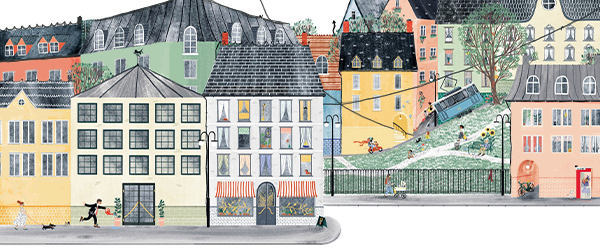 Librio Library #49 – Agnes' Place – Marit Larsen & Jenny Løvlie
2

Minute Read
Why we chose Agnes' Place
As the saying goes, one should never "Judge a book by its cover" however, on this occasion we did it anyway. The cover of "Agnes' Place" drew us in as soon as we saw it. When the cover's as good as this one, there surely must be a good story behind it, right?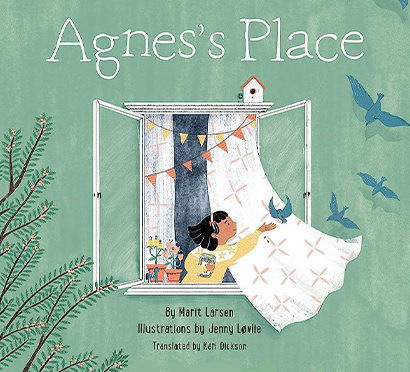 Agnes lives in a city, in a green apartment building where she feels right at home, knows all of the inhabitants and all of their daily routines. There's only one person that Agnes doesn't yet know – Anna, a young girl who's just moved in.
Favorite image
The illustrations by artist  Jenny Løvlie are wonderfully charming and make you want to dive right into the story. Our favorite image shows Agens watching Anna through the peephole in her front door as she and her family move into the flat above.
Kids will like
This picture book is one of those which gives children a special sense of coziness: the kind of story that's nice to read on a cloudy day with a hot mug of cocoa in your hand perhaps.
Adults will like
The picture book focuses on the concept of change and tells the tale of the start of a new friendship. With atmospheric illustrations, "Agnes' place" is a picture book that appeals to both children and adults.
If you like Agnes' Place
 "Agnes' Place" is the first children's book by Norwegian singer and songwriter Marit Larsen. The artist Jenny Løvlie has already illustrated several children's books, such as the book "Time to Move South for Winter" and has been awarded the Waterstones Children's Book Prize for her work.
More recommendations from our collection
Our Librio Library is chock full of exciting children books. You can also check out our books in our online store. How about a book about two children?
Our book "A Tale of Two" is the perfect gift for siblings, best friends or neighbors – suitable for kids aged 2 years and up. During a fantastical game of hide and seek in the library, they immerse themselves in the wonderful world of picture books. They meet pirates, dinosaurs, unicorns, Heidi and Mowgli as they search for each other in all kinds of books. There's a twist at the end as one of them finds the best hiding place of all.
The book has 36 pages and, as with all Librio products, is printed locally and made as sustainably as possible. In addition, we donate 1% of our sales to social and ecological projects. You can find out exactly how and where we donate on librio.com.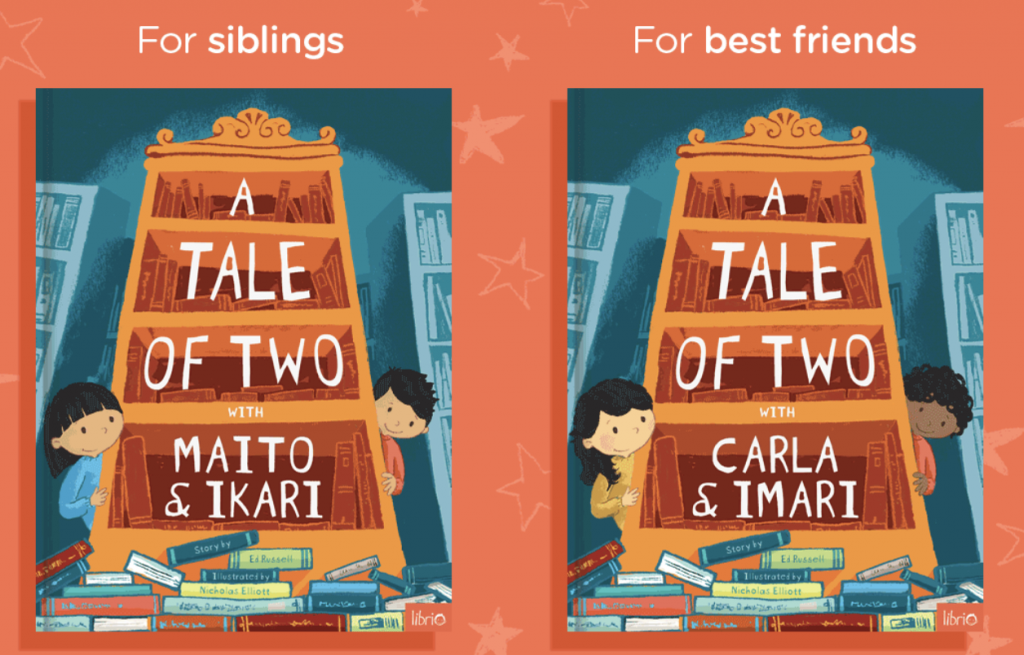 Sign up to our fun monthly newsletter and be the first to hear about book recommendations, competitions and exciting insights into the world of Librio. As a thank you for your subscription, you'll also receive a 10% discount off your first order.