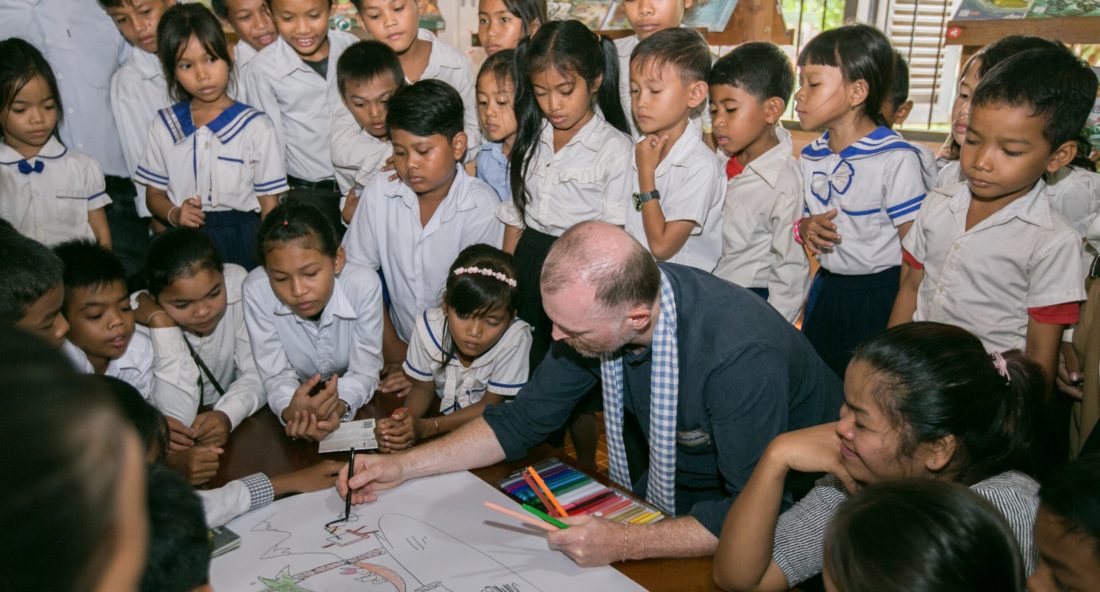 Team Librio in Cambodia
5

minute read
Our CEO, Ed, explains the reasons behind our recent trip to Cambodia.
It all started on Mt. Kilimanjaro
In 2011, I climbed Mount Kilimanjaro for a charity called Water School. Before we starting the climb, we visited two schools where the charity was active to see the impact that our charitable donations had on saving countless young lives.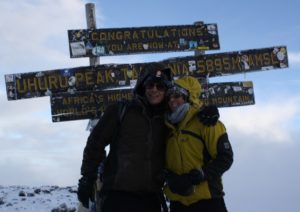 As we trudged up a seemingly vertical incline through a blizzard at 3am on summit night, I thought back to those children and drew motivation to reach the summit from knowing first-hand what an impact my success would have on their lives.
That week in Tanzania 8 years ago had a direct impact on Librio in more ways than one.
Firstly, it was on that climb that I met the lady who would become the mother of the girl who would become the inspiration for Librio. Secondly, it inspired me to live more philanthropically, culminating in Librio donating a book for every book we sell. Thirdly, it showed me the motivational power of experiencing the charitable impact we have first hand rather than looking at pictures on a charity's website.
Helping to climb Mt. Librio
As it turns out, we here at Librio have our own peak to climb every year which we refer to as Librio Mountain. For ten months of the year, we trudge along the Plateau of Despair before scaling the Mountain of Christmas Sales. It's an incredibly stressful time of year in which six weeks of activity can make or break an entire year's work. 
As well as being the time we sell the most books, it's also the time we donate the most books through our More Than A Book program. We thought it would be great for the team to be able to relate more closely to the positive impact we're having in the world if we could witness first hand what effect those donations were having to children supported by Room To Read around the world.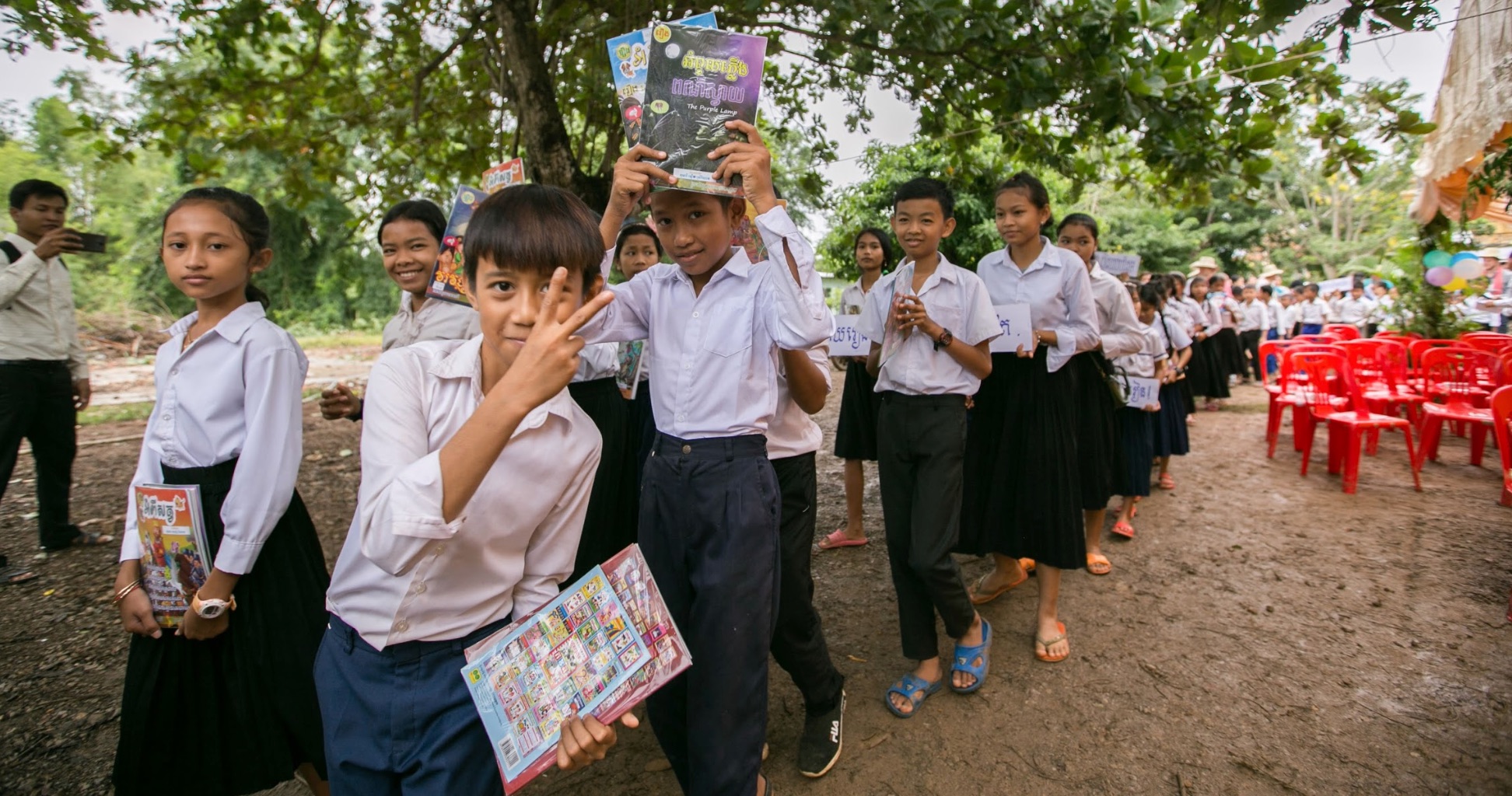 Librio doesn't donate books. You do.
And so, in the first week of September, four of our five founders set off for a week in Cambodia with the following objectives: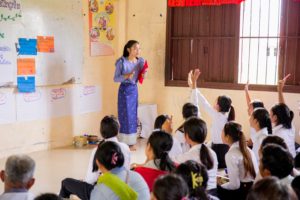 1. To assess first-hand the work that Room To Read is doing in-country
We have always been extremely confident that Room To Read was the correct choice for us, but we expect to donate up to $100,000 to them in the next 12 months, so we felt it was important to see how that money is being spent on the ground.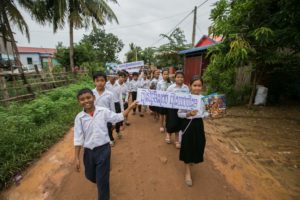 2. To report to the Librio community what impact our donations have
Ultimately, it is you, our customers, who donate the books when you buy Librio products, so we felt it right to report to you what impact you are having when you decide to buy from Librio. As customers of ours, we hope that we offer insights one step closer to home than if you'd read a report on Room To Read's website.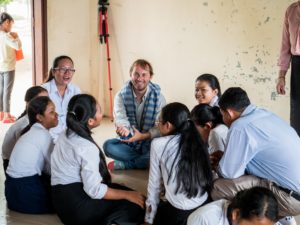 3. To get personal motivation to scale Librio Mountain by understanding the impact our efforts have
Every time we sell a book, we make two children happy. One receives the Librio gift and one receives the Room To Read book. As we operate in an almost entirely online space, we don't often get to experience the happiness we bring into the world, so we hoped our trip would provide some light and motivation through the toughest part of our year. 
Roaring Lions and Ice Skating Pandas
Anyone who has read our philanthropy page on our website will know that we don't do philanthropy as a marketing box-ticking exercise, so we wanted at all costs to avoid the feeling of being "white saviours" getting a photo op of giving a book to smiling children and then spending the rest of the day at the pool, so we worked very closely with Room To Read to create an itinerary which was very involved and allowed us to give as much to the community as possible.
Over the coming weeks, we'll report in more detail on what turned out to be an incredibly inspiring trip. Our donations' impact on the children and communities we visited was plain to see and was a joy to behold. Stay tuned for supremely confident children, roaring lions, book flowering, ice skating pandas, reading competitions, illustrators workshops and team Librio wearing ceremonial hats. 
For now, here are some images as a teaser. 
A note on the climate 
As a company who strives to have as little impact on the climate as possible, it was a serious consideration whether it was justifiable or necessary to fly four people 9,000km across the world to visit Cambodia. After much discussion, we felt that the social benefits of being able to understand the impact our donations have and the subsequent ability to hopefully increase that impact by vocally and enthusiastically reporting on our trip outweighed the environmental costs associated with our journey. 
We did, of course, offset our journey by planting 500 trees with our partner, Trees For The Future. We know what the world needs now is not so much trees for the future as fewer carbon emissions now, but we felt it was at least important to offset our impact in any way we could.
One thing the discussion on emissions has done is highlighted the fact that our initial plans of visiting such projects as a team once a year are not sustainable on an environmental level, so we'll have to carefully consider how we approach such trips in the future.