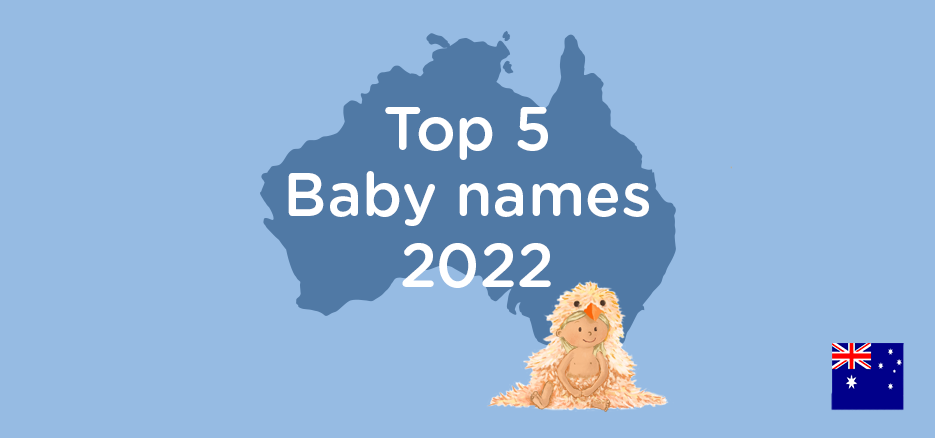 The most popular baby names in Australia 2022
4

Minute Read
Our top 5 baby names 2022: The most popular baby names in Australia 
It's that time of year again where we take a closer look at the most popular baby names chosen by customers who purchased our personalised baby book, "Welcome to the World" and for the first time, we're taking a look at our Australian customer database.
Our hugely popular baby book introduces a child to our wonderful planet while inspiring parents to find wonder in the world around them. The books are printed locally and as with all Librio products, they're printed on 100% recycled paper. As well as being able to personalize the name and appearance of the child, you can also choose the parents. The parents are illustrated abstractly in the book and are not referred to by any specific gender in the text, so you can choose any combination which works best for you and make your little one feel most welcome in the world. As with all Librio books you can also personalise the dedication at the front of the book for that extra personal touch. The book's available in a variety of languages including Albanian, Norwegian, Italian and French.
The most popular girls' names – Australia
In Australia, the name Amelia has come in first place this year, compared to last year, where Emilia was the 'winner'. This is the complete opposite of the UK 2022, which we found interesting. We've also noticed that some names which were in the Top 5 in the UK and US 2021 are now in the top 5 in Australia. Lily and Charlotte have appeared in the top 5 this year in 3rd and 5th place respectively, but we've also seen a couple of new entries with the names Aria and Bella. 

Aria was one of the more surprising names to be in the top 5 as it's what we would've thought was a more unique choice with an interesting etymological background to it. Aria is the Italian word for "song" or "melody", literally translated as "air". However, in Greek it means "lioness" and in Persian it's gender-neutral name meaning "noble". It was so popular in Australia though that it came in at number 2.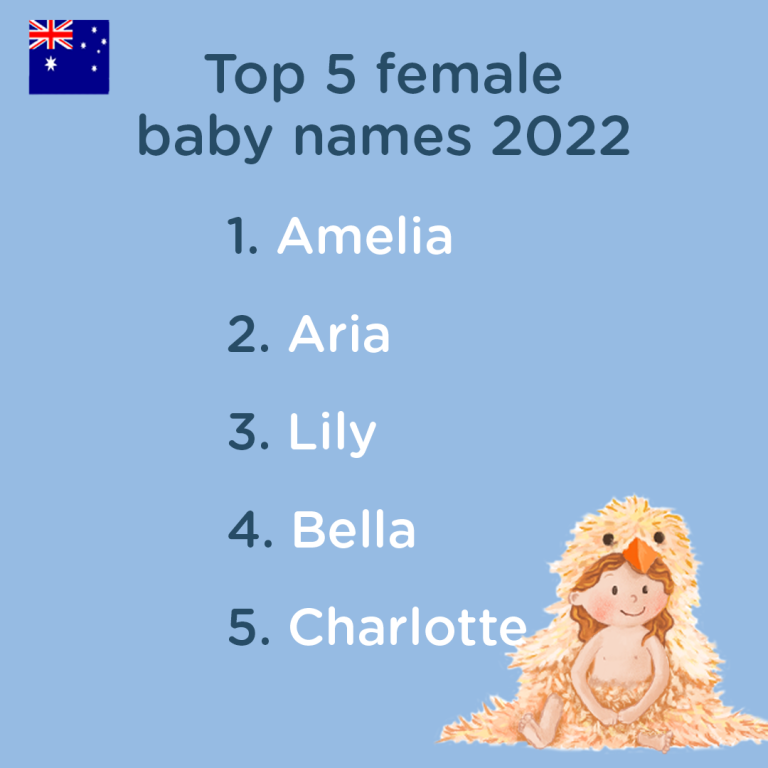 The most popular boys' names – Australia
Whereas in the UK 2022(link to UK post), Leo once again took the lead in first place, in Australia Leo has been outshone this year by the name Eli coming in first. Second was Theo (who also was in the UK's top 5 last year) third was Henry who in the US(link to US) came in 4th, and in 3rd in 5th place in Australia are Hudson and Hugo.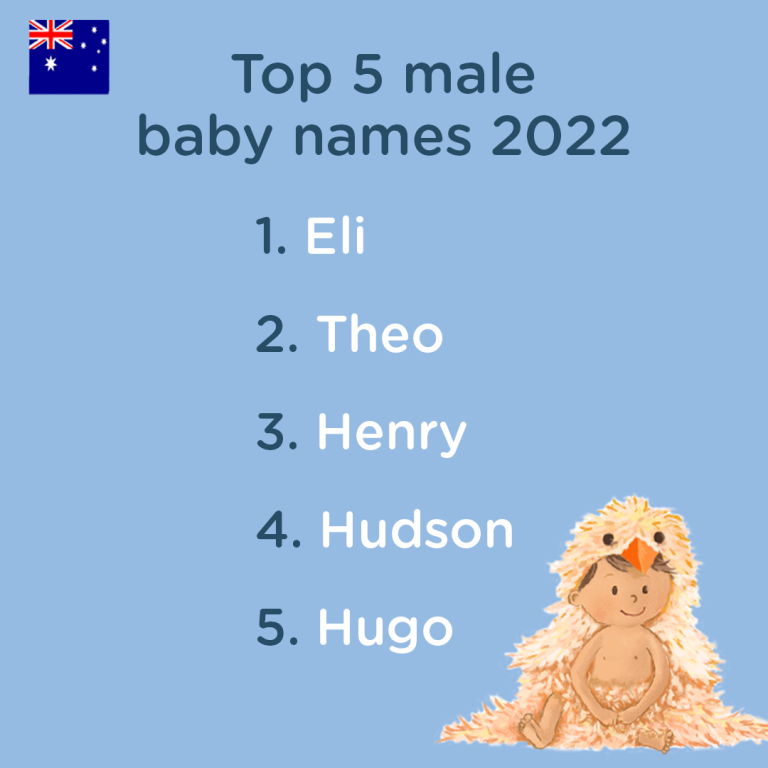 The most popular baby names in Australia 2022
Every parent has a different approach to finding the perfect first name. Some expectant parents know right from the day they discover they're pregnant just what they want their little one(s) to be named, while others decide only on the day of the birth. Generally speaking, many choose a short name for their child. Our data shows that the trend of recent years towards short and sweet baby names continued throughout 2022. 

It gave us a lot of pleasure printing our picture books for all the newborns this past year to welcome them into this wonderful world of ours and we love seeing all the beautiful names coming through our doors. If you want to surprise a family with our baby book, you can order your own copy here. In addition to this, our personalised art prints are also popular gifts for a birth and are a lovely addition to any nursery or child's room.
Need more inspiration? Can't get enough of baby names?
Next month we'll be introducing you to some more rare and unique baby names, just as we did last year. Subscribe to our newsletter and get  inspired by our variety of name articles. Or check out Librio on Instagram, discover even more magical baby names and find out, for example, what the beautiful meaning is hidden behind the name Lanea.