Librio Library #8 – The Snowman – Raymond Briggs
2

minute read
Why we chose it:
Having started Librio Library this year with a wordless picture book, it felt suitable to end the year with one of the most famous wordless picture books which just happens to also be a Christmas classic.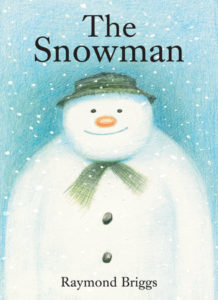 Reading the book again as an adult is a nostalgic experience, not because it's a book we grew up with, but because the illustrations capture so well the excitement and joy of a snowy morning.
It's one of those incredible children's book which you appreciate completely differently as an adult. A child will flick from image to image, focussing on the snowman. As an adult, you focus more on the boy's expression, remembering how winter mornings felt back then and rekindling a sense of wonder in the world around you.
Favourite image:
We're going to cheat and go for "Favourite Page". It may not be the most exciting page and doesn't feature the snowman at all, but the page after his adventure when the boy's tossing and turning in bed, processing everything he's experienced is a wordless picture book at its best. Emotive, engaging storytelling without a single word being written.

Kids will love:
It's a snowman which comes to live and has fun in your house while your parents are asleep. What could there possibly be more to love?
Adults will love:
Reliving an old classic and seeing how the book changes with age. Especially if you have children of your own, it somehow enables you to see the world through their eyes. As you might be able to tell, rereading this book as an adult and a parent had a surprisingly moving effect on this particular adult.
If you like this book:
Raymond Briggs' other classic Christmas book, Father Christmas, is a book which is even more surprising to read as an adult. Father Christmas is a grumpy old man, fed up with the cold, fed up with all the gift-giving, going about his business just like anyone else doing their job. Very fun, very warm, very true.
And your video reward. Is That Song as an earworm for the rest of the day