What's it like to work for Librio?
5

minute read
2017 to 2021 - How the Librio family has grown
The story of Librio began in 2017 with the founding team members Ed, Mark, Oliver, Nick and Tim.
While the number of products in our portfolio (8) and the number of personalised children's books we created (170,000) has grown steadily, it wasn't until summer 2020 that the number of people in our team began to grow too. We added five new team members last summer and we asked one of them, Patricia - who also goes by the name Ms. Owl - to describe what her first 100 days were like.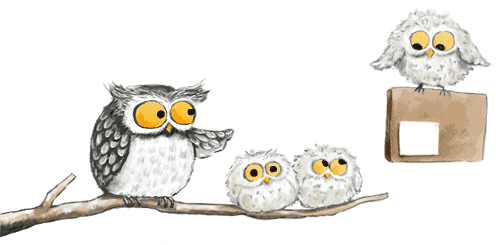 My first 100 days working at Librio
Hello everybody, my name is Ms. Owl. If you've ordered a book in German, then you'll already have met me, because Ms. Owl has been responsible for customer management at Librio since day one.
What you probably don't know however, is that I am a new Owl. Both Ms. Squirrel and I started with Librio this past August, and I was honoured to step into the previous Ms. Owl's shoes (owl shoes are very tiny). Here's what my first 100 days working with Librio at like.
The first day
On a beautiful August day, I made my first flight as Ms. Owl through the forest of Librio in the heart of Zurich. I will happily admit to you all that my heart was beating extremely fast with nerves. Thanks to the heartfelt, warm welcome of the other forest animals, my nervousness disappeared in no time.
Straight away I felt as though I'd been here forever. At my new workspace there was even a little welcome present waiting for me. How sweet! This is where I'd be tapping my wings against the keyboard for the foreseeable future.
Ms. Squirrel also had her first day that day, so we were able to get to know the place together. Our first most important meetings were a couple of barbecues and getting to know the other forest animals. What a wonderful start!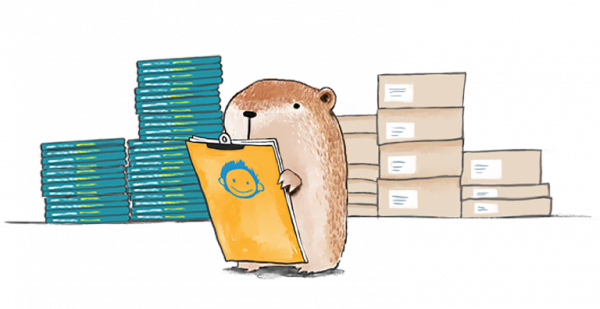 Librio's forest animals
There are currently 12 animals in the Librio forest. Each animal has their own area of expertise which is indispensable in contributing to the creation of our splendid Children's Books.
Our Spanish Beaver, Edu el Castor, is our technical officer and Latte-Art Chef. As well as this, he communicates with our Spanish customers.
Our English Beaver, Eddie Beaver, is our Forest Manager. He is the heart of Librio and communicates to you all in English.
The universally famous Penguin is our IT-Specialist and dear Mr. Mole is marvellous in the marketing of our products.
Hiding behind our wonderfully designed Illustrations, advertisements and social Posts is our Ms. Robin, Ms. Hedgehog and Mr. Badger.
Ms. Squirrel and I are responsible for matters concerning our German-speaking customers. Ms. Mouse keeps a watchful eye over our social media accounts. Ms. Rabbit is responsible for all in-forest animal affairs.
In order to help keep an overview on all the various responsibilities the forest animals have, our Ms. Deer was hired this past summer to help strengthen the team. She co-ordinates all the projects and ensures that even in stressful periods nothing gets overlooked.
You can read about how the Librio forest animals came about in this blog post by Eddie Beaver, where he takes you right back to the beginning.
What is so special about working at Librio?
In the Librio Forest there is always an atmosphere of happiness and sincerity. It's so special that the word 'Workplace' simply isn't applicable. That sounds like a lot of fun and perhaps, you ask yourself, does any work actually get done here? The answer? Oh yesssssss, but with a great deal of enthusiasm, passion and joy. Here we brainstorm together, we draw together and we create magical moments for children together – pretty much everything we do together as a team. Every input is important, every opinion counts.
It was here that I became acquainted with the complex world of creating personalised children's books. Did you know, how many mathematical calculations were involved in the production of the book 'The Tree, the Key and Me'? Over 10 million! Holy Moley! That is a lot of Maths…
It takes roughly a year from the first inklings of a new storyline, to the final printing of a complete children's book. When this book then finally gets published, that moment has a certain sense of magic to it.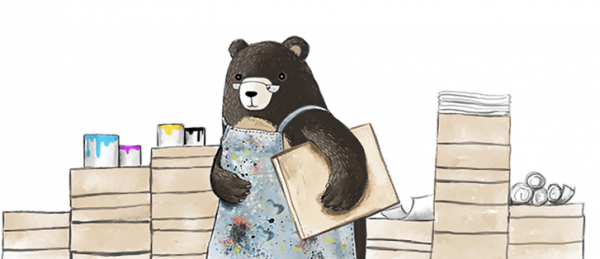 Exceptional circumstances – Book Launches
Since starting with Librio I've been lucky enough to experience two book launches first-hand. At these times all of the forest animals are under a great deal of stress, they are checking every single little detail and are mutually supporting each other as much as they can.
It is also at this time of the year that no music is played in the Librio forest during Friday afternoons as DJ T-Mole is highly concentrated on the revision of the texts. Because of this, the joy is even greater once a book is finally published online. Then we drink, laugh and celebrate together.
I'm not going anywhere
If I've learnt anything from my first 100 days here at Librio, it's that behind these books lies a colourful group of forest animals who are full of passion about their work, who personally have the greatest joy in producing the products and are almost like a small family.
I fly happily to work here, I feel complete here and here I shall stay.
Warmest Forest-greetings,
Your Ms. Owl