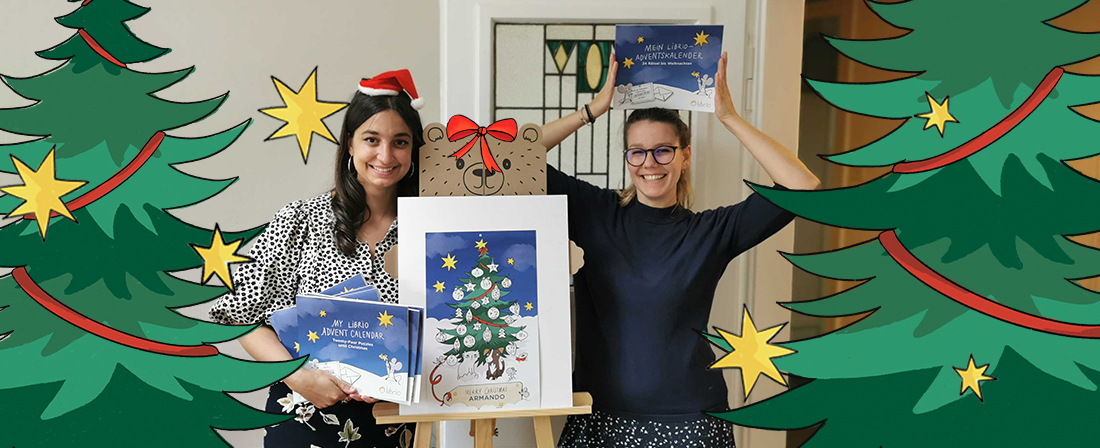 Advent Calendar: The inventors of Floof and Woof
5

Minute Read
How did you come up with the idea of an Advent calendar?
Patricia: The idea came about during a brainstorming session when we first discussed the potential for this kind of product. It quickly became apparent that we wanted to make a calendar without chocolate. So, instead of that every day, we came up with the idea of having a puzzle for every day of Advent instead. We think it's better to offer children an exciting activity instead of just giving them candy.
How does the Advent calendar work? What can the kids look forward to?
Patricia: The kids can expect 24 exciting puzzles and coloring pages. There's also the opportunity for some creative craft activities, and…. best of all, at the very end, there's a surprise waiting for them.
Leticia: And it'll be fun! There are animals doing silly things and small funny details to discover on every page.
The animals – the cat, Floof, the dog, Woof and all the mice. How did the idea for these main characters come about?
Leticia: When we exchanged ideas at the start of the project, we thought about which Christmas figures children might like. Animals that they could relate to from their daily surroundings, for example, a cat or a dog. Patricia had a light bulb moment and said, "We could call them Floof and Woof!" and so we did. (laughs).
I found both of these pretty funny and so everything just kind of fell into place after that. I've developed the characters and the characteristics they all have as well.
Patricia: The mice are actually the 'secret' stars of the Advent calendar (laughs)
The mice even made it to the cover of the puzzle book! The illustrations are by you, Leticia and the text from you, Patricia. How did you approach the development of the product?
Leticia: We knew we wanted an Advent calendar, but we were pretty much given free rein as to what to put in  it. In the beginning it was all about playing with different ideas and the exchanges between us always had us in fits. Luckily we had Patricia who had the organizational overview of the product. 
Patricia: We met weekly and discussed our ideas. Sometimes I also tried to show Leti what I meant with sketches of my own and then Leti would make it into art.
Leticia: It was a good mix of back and forth from both sides and we developed the basic idea together. Patricia would write the text and I would draw the pictures.  Some of the new ideas were created during the drawing process though, so the text occasionally didn't fit in the end. When that happened, I'd speak to Patricia again, we'd make adjustments to the text and so the calendar came together through our exchanges.
How did you make the illustrations, Leticia?
Leticia: First, I drew them with pen and paper, but later I used an Ipad. 
You worked on this project for several months, what was it like to develop a Christmas product during the hot summer months?
Patricia: I listened to Christmas songs to try and get me in the festive mood, but it was a bit weird to be honest. 
Leticia: Yeah, I mean, at the time, you're just excited about enjoying summer and Christmas is still so far away. I looked at Christmas pictures to get a better 'feel' for the Advent season and also get inspiration for festive colors: green, red etc. 
Which moments will you remember the most?
Leticia: Once we'd decided on the tone of the product, once it was clear who the main characters were and what they were going to be doing. Also once we'd decided what kind of jokes I could incorporate, how I could show the jokes in the pictures. After that all came together it was really fun!
Which is your favorite page in the Librio Advent calendar?
Patricia: My favorite page is December 12. It's an awesome picture with so much humor and so many tiny, clever details to it. I can look at the picture for ages and always spot something new that I didn't see before.

Leticia: Did you notice this? (points to the picture and laughs) Instead of Schubert, it's Muuhbert! 
And you, Leticia? Do you have a favorite?
Leticia:
 I really like the design on December 4. I like how the page is divided up. For example, the craft idea with the stars was something my grandmother taught me when I was a child. 
Is there anything else you want to mention?
Leticia: I'm really looking forward to being able to give the Advent calendar as a gift to my friends' kids. I think it'll be really cool! 

Patricia: Everyone I know will receive one – regardless of whether they're a child or an adult! (laughs)
Leticia: I'm looking forward to the reaction of the jokes, I'm interested to hear what the kids have to say.
The Advent calendar is available as a limited edition on our website. Like all Librio products, it's printed on 100% recycled paper and sent in our hugely popular bear packaging.
In addition to the Advent calendar, Librio also offers personalized picture books, greeting cards and art prints. Here you'll find an interview with Nick, the genius behind Librio's greeting cards where he tells us all about his inspiration behind them.