The best Christmas cookie recipes
5

Minute Read
"Easy, fun and delicious." – Floof, 2022
One of the most wonderful things during the holiday season is the smell of freshly baked Christmas cookies filling the house. Cinnamon, orange, cardamom, vanilla… you name it, there's no end to the variety of Christmas baking. Floof and Woof also love to bake. They've put together a selection of their favorite Christmas cookie recipes for you. What cookies are you going to go for today?
Ready, steady, bake!
Floof's favorite: Sugar cookies
Floof adores these! The real highlight of these cookies isn't the actual ingredients but the decoration. Floof loves getting creative and these are the purrfect solution.
INGREDIENTS
For the Pastry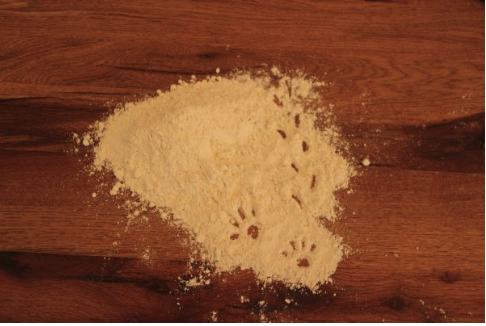 1 cup / 227g unsalted butter
1 cup/ 200g granulated sugar
1.5 teaspoons vanilla extract
1 large egg
2.5 cups / 312g all purpose flour
¾ teaspoon baking powder
¾ teaspoon table salt
For the icing
4 Tablespoons lemon juice
8 Tablespoons Icing sugar
A variety of sprinkles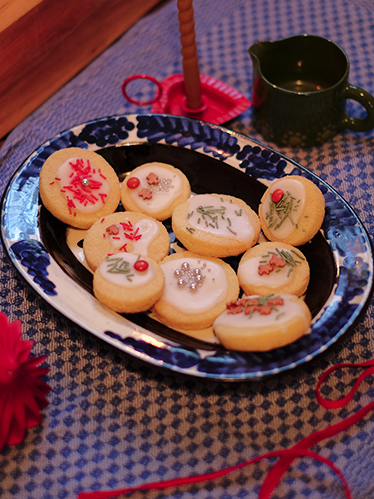 PREPARATION
Step 1 – baking the cookies
1. Combine butter and sugar in a bowl (or a mixer) and beat until creamy and well-combined. Add egg and vanilla extract and beat until combined.
2. In a separate bowl, mix together the flour, baking powder and salt.
3. Gradually add the dry ingredients into the wet until dough is smooth and completely combined.
4. Roll dough into a ball, cover in plastic wrap and refrigerate for at least 1 hour.
5. Once dough has finished chilling, preheat the oven to 350F (175C) and line a baking sheet with parchment paper (alternatively bake cookies directly on an ungreased baking sheet). Set aside.
6. Generously dust a clean surface with flour and place the chilled dough disk onto the surface. Lightly flour the dough and roll out to ⅛" (for thinner, crispier cookies) or ¼" (for thicker, softer cookies). Add additional flour as needed both on top of and beneath the dough so that it doesn't stick.
Note: if dough is cracking as you roll it, let it sit at room temperature for 10-15 minutes to soften before attempting again.
7. Use cookie cutters to cut out shapes and transfer shapes to the prepared baking sheet, spacing at least 1″ apart. If you're not intending to decorate your cookies with icing, you can decorate them with sanding sugar at this point before you bake them.
8. Bake at 350F (175C) for 8-10 minutes (note that smaller cookies will need less time and larger cookies will need more), or until edges just begin to turn lightly golden brown. Allow cookies to cool completely on the cookie sheet before decorating.
Step 2 – making the icing
For the icing, mix the icing sugar together with the lemon juice and place in a piping bag. Decorate the cookies with it – et voilà!
Woof's favorite: Gingerbread cookies
Not one to follow in Floof's footsteps at all times, Woof's choice of cookie is slightly spicier. A gingerbread cookie!
INGREDIENTS
For the pastry
½ cup / 150 g  softened butter
¾ cup / 150 g Sugar
1 Egg
0.25 teaspoon salt
2.4 cups / 300 g Flour
0.5 teaspoon Baking powder
0.5 teaspoon ground cloves
2 cm fresh ginger, peeled and grated
Rind of 1 orange 
For the sugar icing
1 fresh egg white
½ cup / 100 g Icing sugar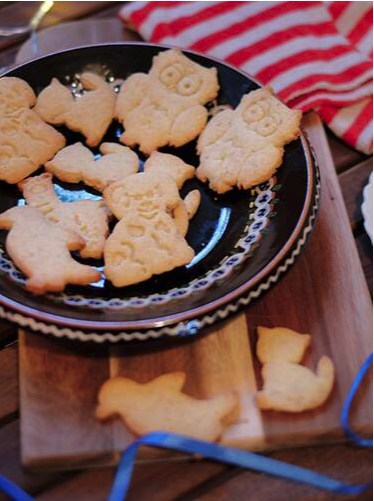 INSTRUCTIONS
Step 1
Mix the butter, sugar, egg and salt together with a whisk until the mixture becomes lighter in color. Mix in all the other ingredients for the dough and refrigerate for approx. 30 minutes.
Step 2
Preheat the oven to 392F (200C) and paper a baking sheet. roll out the dough between two sheets of baking paper until about 2mm thick. Cut out with cookie cutters and place on a couple of baking sheets lined with baking paper. 
Step 3
Bake each tray for about 9 minutes in the middle of the oven and allow to cool on a rack. Once cooled, mix egg whites and icing sugar together and decorate the cookies.
The Mice's favorite: Cinnamon stars
The mice love cinnamon, which is why they like to bake cinnamon stars in all shapes and colors! They also like to pinch them when nobody's looking. Naughty mice!
INGREDIENTS
For the pastry
2 fresh egg whites
1 pinch Salt
1 cup / 200 g Sugar
3cups / 350 g Ground almonds
2 Tablespoons Cinnamon
For the icing
½ Cup / 70 g Icing sugar
1 Tablespoon Lemon juice
INSTRUCTIONS
Step 1
Whisk egg whites with salt. Add the sugar, ground almonds and cinnamon and combine to make a dough.
Step 2
Roll out the dough to about 1cm thick and cut out stars using cookie cutters. Dip the cookie cutter in cold water or sugar to prevent it from sticking.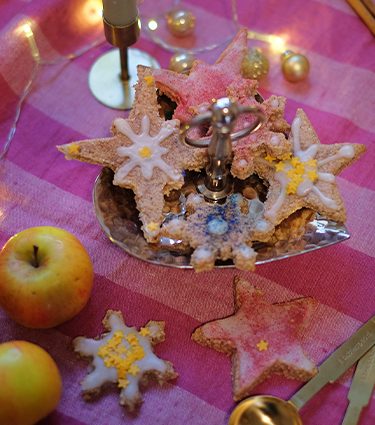 Step 3
Place the cut out cookies on a baking sheet lined with baking paper. Let dry overnight or at room temperature for about 6 hours.
Step 4
Preheat the oven to 464F (240C) and bake the cinnamon stars on a middle shelf for about 3-5 minutes. Allow to cool on a cooling rack.
Step 5
Mix icing sugar and lemon juice and place in a piping bag. Decorate the stars with icing and sprinkle with sugar decorations as desired.
The best recipes for Christmas cookies.
Homnomnomonom! Floof, Woof and the mice are enjoying their delicious Christmas cookies after all their hard work. Which recipes have you tried? Share your photos with us on Instagram by linking them to our Instagram page.
Looking for some more creative activities for your little ones? Check out our blog and discover lots of ideas to keep them busy. How about making their own bear mask? Or a nice Christ-miss-you message. There's always something new and exciting to be found on our Librio Blog