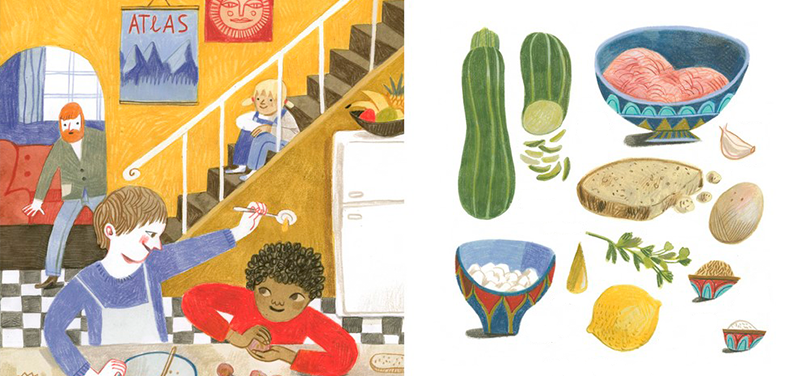 Librio Library #32 – 'Lunch at 10 Pomegranate Street' – Felicita Sala
3

Minute Read
Why we chose 'Lunch at 10 Pomegranate Street'
Winter has been in full swing for a while now and we've already been daydreaming about all of the team getting together in our office-garden for a summer barbecue. Looking for some inspiration of what dishes we could make for the first Librio BBQ of the year we went out, and we came across 'Lunch at 10 Pomegranate Street'.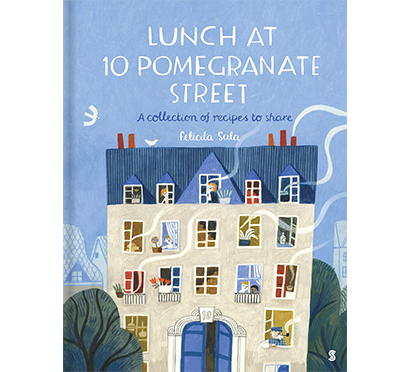 This fantastic picture book welcomes you into the world of 10 Pomegranate Street and its many kitchens. Here you will find things being chopped, fried, baked and cooked in so many different ways it makes your mouth water! Every single occupant in 10 Pomegranate Street is busy making their favourite dishes. Jeremiah is baking cookies, Señora Flores is rustling up some black bean soup and Mr. Singh is making a coconut dahl. On every spread you'll find a new character, and a new recipe to actually make the dish yourself (should the mood strike you). It's a wicked concept and we fell in love with it. Not least because it made our tummies rumble and made us head to our kitchens to try some of them out ourselves! 
Favourite Image
Holy guacamole Batman! This book is just chock full of wonderful images. Felicita Sala's illustrations bring the characters from 10 Pomegranate Street to life and you become intrigued about who's going to appear on the next page. In every kitchen you'll see tiny nuances and tiny details unique to each character and their heritage. It's a wonderful touch and makes the book something you can pore over again and again, finding something new each time. We particularly liked Maria's kitchen though with her very unusual pet!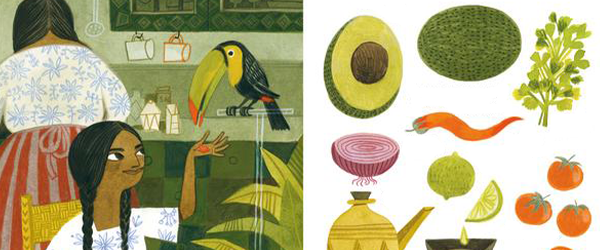 Kids will like
Despite the book not having a particularly 'eventful' context as such, it still draws little ones in because of the unusual way it's done. 'Who's going to be in the next kitchen?' 'What are they going to be cooking?' The illustrative style is very appealing to children. It's colourful and full of life and alongside all of this they get to learn about different cuisines and cultures. It's simply brilliant all-round. 
Parents will like
We all know the feeling… It's late in the day and you're sitting there still wondering 'What on earth am I going to cook tonight?'. With a book like 'Lunch at 10 Pomegranate Street' the inspiration gets those creative juices flowing – along with making you rather peckish! You'll find all sorts of ideas in there and maybe even learn something completely new.
If you like 'Lunch at 10 Pomegranate Street'
'Lunch at 10 Pomegranate Street' is the first in a series of recipe-based picture books. Another of these is 'A year in Fleurville' a wonderful little book of recipes from balconies, rooftops, and gardens. Felicita Sala studied Philosophy and taught herself how to draw. She lives with her family in Rome (lucky thing!).
More recommendations from our collection
Just as this book takes you on a Worldwide culinary adventure, our own book, 'My Search-and-Find World' book will take you on a travelling adventure all over the world. My Search-And-Find World Trip takes your child on a unique adventure to 10 stunning destinations including the canals of Venice, the icy tundra of Greenland, the wondrous depths of the Great Barrier Reef and the majestic temples of Bagan.
Perhaps you'd also like to check out our blog post on 'The Incredible Hotel' by Kate Davies and Isabelle Follath? Another book guaranteed to make you hungry! 
Sign up to our monthly newsletter and discover new children's book recommendations each month.