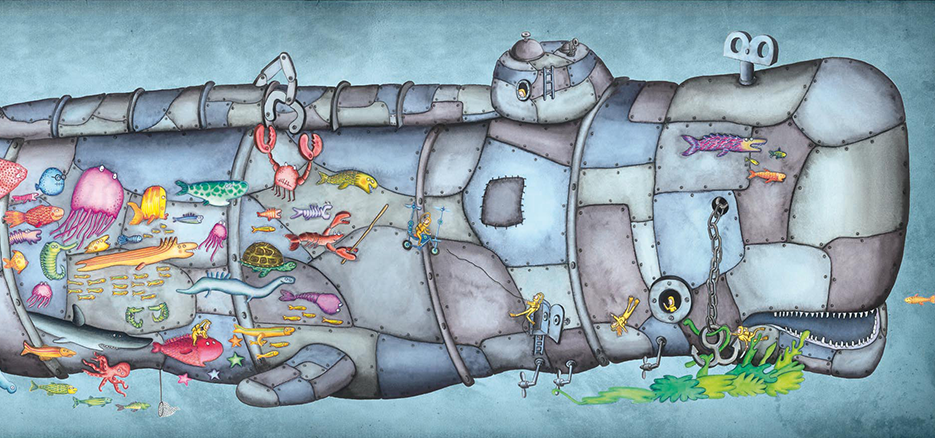 Librio Library #15 – Balea – Federico Fernández, Germán González
2

minute read
Why we chose it:
One of the perks of working in the children's books industry is that (Corona-permitting), the major trade fair for our industry is in beautiful Bologna. And one of the perks of attending a global children's book fair is discovering picture books which wouldn't normally cross your path.

Balea is one such book. In its closed form, it looks like a book, but open it up and you have a 1.5m-long search-and-find image which you can look at like a book or hang up on the wall. Balea is the Galician word for Whale and the book depicts a mechanical whale submarine and its aquanaut pilots. On one side of the poster, you have the interior and on the other, the exterior.
As a child, we had a W. Heath Robinson poster on my bedroom wall and I remember staring for countless hours at all the intricate details. Balea feels the same way in a Jules Verne meets Where's Wally kind of way and is guaranteed to keep young and old eyes returning to find new gems hidden in its depths.
Favourite image:

Considering the fact that there are only two images - one outside and one inside - this question is not so relevant this month, but if we had to choose, we'd definitely go for Interior, because of all the different goings on to enjoy.
Kids will love:
There's a lot of humour in the illustrations and certainly plenty to keep kids entertained and coming back for more. Very unsurprisingly, the picture of nearly-naked aquanauts showering "Look! You can see his bum!" was a particular highlight…
Adults will love:
It's great fun to show little ones books about concepts that they never dreamed possible. The very concept of a whale being driven by mini people deep in the ocean gets their imaginations racing, which is as much fun for the adults to watch as it is for the little ones to imagine.